The planet where kids learn through playing!
What's Little Planet?
Little Planet is the indoor theme park that has attracted more than 2 million visitors since 2017. Unique attractions that stimulate the spirit of exploration and imagination expand the "infinite possibilities" of kids. Off to the wonder world!
Introduction
Its entrance lies open waiting, and you could've missed it. You can't help being drawn to it.
Inside, everything is very much different from the world you know. It's like a leap into the future.
Or is it another planet?
You can almost hear the animals calling out to you.

It is in a child's nature to run around, touch things, jump around, think and be amazed.
Our technology reacts and responds to that curiosity of a child's.
We help kids to continuously be curious and expand their knowledge.

Kids will forget time in this magical world.
But they will find priceless discoveries in return.
Attractions
ZABOOM JOURNEY
A ball pool that makes full use of projection mapping. Swim in a sea of balls with ripples of light, hit the monsters that appear on the screen, and defeat them. Feel free to take fantastic photos or videos, and upload them to social media!
SAND PARTY!
Futuristic sand play utilizing AR technology. Pile sand high to create mountains, and dig deep to reveal the ocean. You can enjoy using special items to search for treasure chests in the sand and find out the names of living creatures. The sand is made of antibacterial sand, so it is hygienic and safe.
SKETCH RACING
Vehicles drawn on paper become 3D and engage in a heated race. Cars, coloring of trains, carriages, motorcycles, and etc.. various vehicles are available. You can even create your own vehicles freely from scratch. The speed and performance of the vehicles changes depending on the color and shape of the picture you draw.
A variety of other attractions await you!
Ticket
The prices listed here are typical price plans and prices may vary on the locations.
Please note that an annual membership fee of 600 yen per group is required for the first visit. This applies to all guests regardless of whether or not they plan to visit in the future.

WEEKDAY
HOLIDAY
*Holiday rates will be applied during the long vacation periods (summer, winter, and spring breaks) set by Little Planet. The winter break for 2023 is December 22, 2023 - January 8, 2023.
–In principle, adults (18 years old or older) and children (17 years old or younger) should be admitted in groups. However, those between the ages of 13 and 17 may enter without a parent or guardian.
–Admission is free for children under 1 year old.
–For safety reasons, one adult guardian can be accompanied by up to three children.
–One-day tickets may be temporarily suspended due to congestion.
–Please note that the attractions are subject to change or be canceled without notice.
Digital wristband Sha-Ring
This is a wristband for kids that is given to each group when they enter for the first time. Pairing with a parent's smartphone will further enhance the enjoyment of the attractions!
How to use Sha-Ring
STEP 1
Pair the wristband with a smart phone by reading the code on the receipt issued at the time of admission. An e-mail address is required for registration.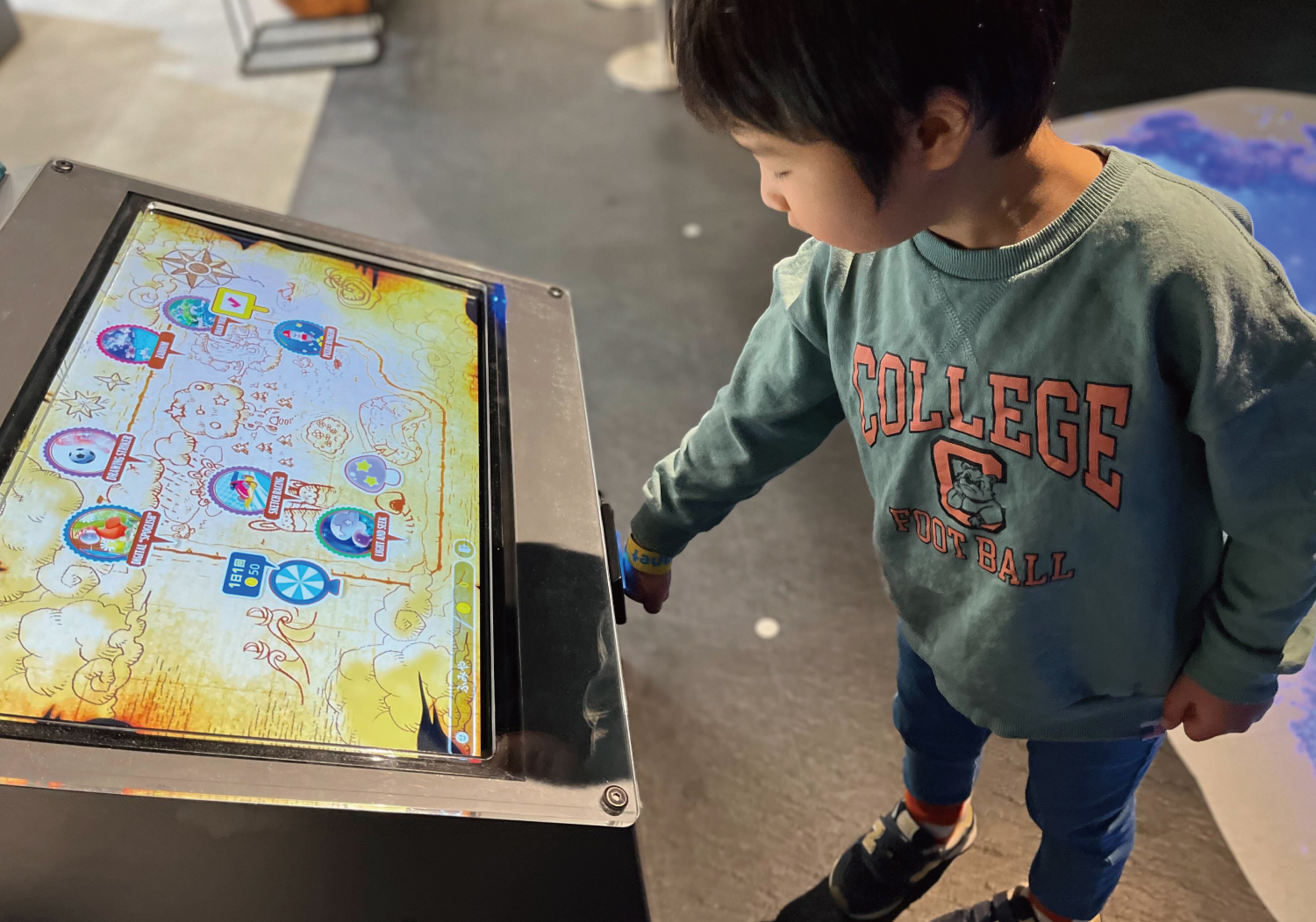 STEP 2
Once you enter the park, bring your "Sha-Ring" close to the reader on the "Sha-Ring Station". You will see the available missions to challenge on that day. Here, you can check your "LIPPLA", the in-park coin, and exchange your accumulated "LIPPLA" for items. Check the station occasionally while you are playing in the park!
STEP 3
When playing at an attraction, touch the reader near it with "Sha-Ring". The data that your child has played with, such as coloring papers drawn by your child, will be recorded on the network and can be viewed on your smartphone.
*Only for attractions that support "Sha-Ring".
STEP 4
The fun of play will be enhanced by using the items exchanged with the "LIPPLA". You can also use Lipla to spin the roulette wheel at the "Sha-Ring Station" and receive prizes. You can continue to use the remaining "Liplas" at your next entry.
STEP 5
After you leave the park, see the data your child played with on your smartphone. You can see the pictures your kids drew and check the badges and items they collected. Let's chat with your children about how they enjoyed them!
FAQ
Q: Do I need to pay an annual membership fee (¥600) even if I am a traveler?
A: Little Planet is a membership park, so all visitors are required to pay an annual membership fee regardless of whether or not they plan to visit the park next time. The annual membership fee includes the cost of one "Sha-Ring" wristband that allows you to enjoy the attractions even more.
Q: Can children enter the park without a guardian?
A: For safety reasons, children under 13 must be accompanied by a parent or guardian 18 years old or older. Children 13 to 17 years old can enter without a parent or guardian, but please note that, in principle, information in the park is provided only in Japanese.
Q: Can I switch parents or guardians?
A: Switching parents/guardians is not allowed without paying an additional admission fee.
Q: How old does it have to be to have fun?
A: Most attractions are recommended for ages 3 and up, but many children under 3 also enjoy the attractions.
Q: Can I leave temporarily?
A: Yes, it is possible. However, please note that in the case of time-based tickets (30 min., 60 min.), the time for temporary exit is included in the admission time.
Q: Can I enjoy the park even if I don't understand Japanese?
A: Basically, the written language in the park is only in Japanese, but many attractions are non-verbal communication experiences designed to be intuitive and enjoyable even if you do not understand Japanese.
Q: Can I eat and drink in the park?
A: Only beverages are allowed. Please do not bring in paper cups, tumblers, or other spillable items. Food is not allowed.
Q: Are there restrooms in the park?
A: There are no restrooms in the park. Please use the restroom before entering the park.
Precautions
Please be sure to read the followings before entering the park.
–There are no restrooms in the park. Please use them before entering the park.
–Please be sure to accompany your child when leaving the park for restrooms and other temporary exits.
–Switching parents/guardians is not allowed without paying an additional admission fee.
–Attractions may be suspended due to system maintenance or other reasons.
–We are not responsible for the following items in the park.
・Injuries or accidents to guests
・Troubles between guests
・Lost children
・Accidental theft, loss, defacement, or damage to your belongings